Posts Tagged 'self-help'
So Good They Can't Ignore You: Why Skills Trump Passion in the Quest for Work You Love by Cal Newport
My rating: 2 of 5 stars
So bad you can ignore it.
100 Ways to Motivate Yourself: Change Your Life Forever by Steve Chandler
My rating: 2 of 5 stars
Next up: 100 ways to kill self-help writers who regurgitate other people's ideas.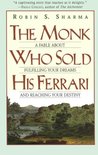 The Monk Who Sold His Ferrari: A Fable About Fulfilling Your Dreams & Reaching Your Destiny by Robin S. Sharma
My rating: 1 of 5 stars
The monk who was nothing but a thinly-veiled excuse to regurgitate all the usual self-help claptrap under the pretext of ancient wisdom, wasn't really a monk and didn't own a Ferrari.